Team Japanese uses affiliate links. That means that if you purchase something through a link on this site, we may earn a commission (at no extra cost to you).
Are you wondering how to learn Japanese?
The good news is, today there are more online Japanese courses than ever!
Thanks to the magic of the internet, you can easily learn Japanese from beginner to fluency – without ever visiting Japan, attending a night school, or even leaving the house.
The only problem is, with so many options, which is the best online Japanese course for you?
In this article we'll list the best ways to learn Japanese online. All of these courses let you study from home, at your own pace and on your own schedule.
Remember, different courses work well for different people. Check the pros and cons of each one. Even better, most of these Japanese courses offer a free trial, so test them out before you commit!
Happy studies!
Best Japanese courses
Rocket Japanese
Rocket Japanese is our top recommended online Japanese course. It's a complete one-stop shop that covers all the skills you need to read, write, speak and understand Japanese.
The course is mainly audio based, with each lesson structured around a 20-30 minute audio track. Each audio lesson introduces a short conversation in Japanese, and then explains all the new words and grammar. Also, you can listen online, or download to listen on the go.
But unlike some audio courses – which focus on listening only – Rocket Japanese is a totally comprehensive course which caters to all learning types. After listening to the core lesson, you have a whole host of interactive resources to practise and reinforce what you've learned.
You can replay each conversation line by line. Then, record yourself repeating each line, and the amazing voice-recognition technology will teach you how to hone your pronunciation.
The course also offers flashcards, quizzes, downloadable pdfs, culture lessons, and a cool feature where you can take the role of one of the speakers in each new conversation. There's even a forum where you can chat to other language learners and get your questions answered by tutors.
Don't forget hiragana, katakana and kanji too! Rocket Japanese has special reading and writing lessons, with videos to train you on correct stroke order and handwriting.
Pros
Downloadable audio tracks so you can study wherever you are
Access via the website or the Rocket Languages app
Interactive quizzes and games make learning fun
Variety of resources
Streak counter and badges for motivation
Cons
No real people to practise speaking with
The Japanese forum is not very active
No placement test for non-beginners
Level
Rocket Japanese is available as three separate levels, which promise to take you from complete beginner all the way up to advanced conversational level. You have access to all lessons within the level(s) you purchase from the start, so if you're not a beginner, you can easily pick which lessons are best for you.
Price
The free trial is the best way to get a taster. After that, it's a one-off fee for unlimited lifetime access, including all upgrades. No hidden charges or recurring monthly fees to worry about. In our opinion, Rocket Japanese offers unbeatable value for money for the amount of content it offers. The usual fee is $99.95 for the Premium package (which takes you up to good conversational level. And if you buy all levels at one, there are discounts for higher levels. They have frequent flash sales, so check the current price here.
More
Read full review | Sign up for free trial
JapanesePod101
If you've looked into studying Japanese online before, you've probably come across JapanesePod101! They're been around for ages and have a great reputation – and rightly so.
JapanesePod101 is another audio-based course. They started out as podcasts, hence the name. Their podcasts are still the core of their online Japanese lessons, but like Rocket Japanese, they've also added a number of other resources such as downloadable PDFs of lesson notes, flashcards, and the ability to replay conversations line by line.
You can listen to all the lessons on their website, or download onto your phone. You can also access the podcasts through the Apple store. It can be hard to find the lessons you want there because there are just so many tracks!
JapanesePod101 lessons are always fun and engaging. You'll learn a lot about Japanese culture (both traditional and modern), too. And there are literally thousands of tracks available, at all levels, so you're bound to find a course that's right for you.
Best of all, you it's completely free – although there are even more benefits with a paid membership.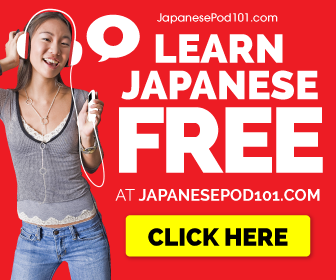 Free members can try the entire site for 7 days, then you'll be restricted to the most recent lessons only. (New lessons come out weekly.) Paid members can access the entire lesson archives, so you can go back to older seasons and study at your own pace. There are a lot more online features available for paid members too.

Pros
Study on the go
Access the tracks anywhere
Fun and interesting lessons
Huge amount of content for free
Cons
Almost too much content – difficult to find what you need
Lots of English spoken on some tracks
Advertising and upsells sometimes annoying
Level
Complete beginner up to advanced. You can access all levels at any time, no matter what package you're on.
Price
Free! The free, lifetime membership gives you access to the most recent audio lessons at all levels online. Then there are various subscription packages, starting at just $4 per month. The subscription packages give you access to the entire audio and video archives, plus a whole host of extra features such as lesson notes, flashcards, and even one-on-one tutoring if you spring for the premium package.
More
Read full review | Sign up for free trial
Pimsleur Japanese
Pimsleur is a big name in the language learning world. They've been around forever, and thousands of people worldwide swear by them for learning a foreign language.
Pimsleur developed a method which is based on repeating words and phrases out loud, and recalling them at intervals, until you know them inside out. They are very effective for learning to speak Japanese confidently, and their innovative technique of breaking down words into syllables means you will develop very natural pronunciation, too.
The courses are made up of 30 minute audio lessons. These are perfect for listening to in the car or while doing your chores. The website and app have flashcards and quizzes you can use to drill new vocabulary. They have recently added reading lessons too. However, the focus is strongly on speaking and listening.
If you want to learn to speak Japanese fast – for example, before going on a trip to Japan – and you're not too bothered about reading and writing, this is a great option for you.
Pros
Learn to speak confidently
Learn correct pronunciation
Listen on the go
Best for people who learn by listening
Cons
Not strong in teaching reading or writing
No written notes – not good for people who learn from reading or visuals
One of the more expensive courses
Level
From complete beginners (level 1) to intermediate (level 5)
Price
$19.95 monthly subscription (try for one week for free)
More
Read full review | Sign up for free trial
NHK World Easy Japanese
This is a totally free online Japanese course! It's provided by NHK, the national broadcaster in Japan. Easy Japanese lessons are short (just 10 minutes each) and easily digestible.
Each lesson is based around a short audio track with a cute, accompanying anime-style video. Then you can reply the conversation line by line to practise your listening and pronunciation. There are also good grammar explanations and culture notes. You can download the lesson notes as a PDF.
The NHK Easy Japanese course is designed for immigrants or exchange students in Japan. It covers useful, every day situations that you'll come across living in Japan. The lesson topics include attending a school, living in a dormitory, shopping, sightseeing and visiting a Japanese home.
One nice touch is that this Japanese course is available for speakers of many different languages, including Indonesian, Burmese, Portuguese, Spanish, French, and many others. That means that if English isn't your first language, you can read the grammar explanations and notes in whichever language is best for you.
There are only 48 short lessons in total. Easy Japanese is a great resource for complete beginners but it won't take you very far. After completing all lessons, you will be able to introduce yourself, go shopping, and cope in some basic everyday situations.
Sadly this course is not the most fascinating. It's quite basic, and there are no interactive features such as games or flashcards to keep you motivated. The sample conversations are all a bit dry, too.
Also, the study of hiragana and katakana is not integrated into the course. You can actually complete the whole course without learning to read Japanese. All the text is written in full Japanese and romaji (English characters).
Still, it's a completely free and easy to use online Japanese course – and it's not bad at all! If you're a complete beginner, and you want to experiment with learning Japanese online before splashing out on a paid course, this might be a good first option for you.
Pros
Explanations in 17 different languages
Covers useful, everyday situations
Free!
Cons
For beginners only
Not interactive
Level
For complete beginners only. If you already know a little Japanese, it's probably not worth your time.
Price
Completely free!
More
FluentU
Can you learn Japanese watching videos? That's the dream, right? Well, FluentU aims to help you do just that.
They take authentic, real Japanese YouTube videos and give them cool interactive captions. Simply hover over a word as you watch to get a definition. You can add unknown words to your flashcard deck and test yourself with quizzes.
They have a huge range of videos, including movie trailers, music videos, funny videos, interviews, talks and more. So there's something for everyone. Whatever you're into, you're bound to find a Japanese version on FluentU!
FluentU is an excellent resource for improving your listening comprehension, learning new words and structures, and increasing your exposure to real Japanese.
If you want to start using more authentic Japanese content, but you're not feeling ready to watch without subtitles, FluentU is an excellent way to bridge that gap.
Pros
Real Japanese content is more motivating and exciting than textbook language
Interesting content and fun lessons
Well designed platform. It's easy to use and the subtitles work really well.
It is excellent for visual learners. Even the definitions have a picture for each word to help it stick in your memory.
Cons
One of the more expensive tools on this list
Not a complete course: it's great for listening, reading and vocabulary, but you will need to look elsewhere to learn grammar and writing
Level
FluentU has videos from beginner to advanced levels.
However, I would not recommend it for complete beginners. This is because it kind of throws you in the deep end with the Japanese writing system. There is no romaji (English letters) on the video captions and they use kanji on the flashcards right from the beginning.
I would recommend FluentU for upper beginners and intermediate learners who are already confident with hiragana and a few kanji.
Price
FluentU is an excellent resource, but unfortunately it's one of the more expensive options. You can pay on a monthly rolling basis: for $29.99 per month. Or, if you pay a year's subscription upfront for $239.99, it works out at the equivalent of $19.99 per month.
They do offer a free 2 week trial.
More
Read full review | Sign up for free trial
Rosetta Stone
Rosetta Stone is the big daddy of the language learning world. You've probably seen their adverts everywhere, featuring the famous yellow box. They have great reviews, and are celebrated by many as one of the most effective language learning programs out there.
But are they for you?
Well, that depends on your language learning style.
Rosetta Stone aim to teach you Japanese the same way you learned your first language. It's based on an immersion style of language learning.
There is no direct English-to-Japanese translation of new words. Instead, they want you to avoid English. The course works by showing you pictures, and making you use your intuition to guess the meaning of new words.
This is great for visual learners because you will develop a strong connection between the word and image.
One huge minus is that the Rosetta Stone course content is the same for every language. Yes, whether you are learning Japanese, Chinese, French or Arabic – the language will be different, but the pictures and structure of the course is exactly the same!
This means that almost none of the pictures are of Japan or even Japanese people. This seems like a real shame for a course that uses pictures heavily! You won't learn anything about Japanese culture with Rosetta Stone (unlike Rocket Japanese and JapanesePod101, which have a big focus on teaching you about Japan).
Also, they are very expensive – by far the most expensive program on this list. There are several packages available, from about $100 up. The latest (and most expensive) package (version 4 TOTALe) has a monthly subscription cost, but includes access to live lessons with a native Japanese teacher.
Many users say the price is worth it, but it is important to consider your own budget when picking a Japanese learning software.
You should also consider whether the image-only, immersion technique will work for you. If you like to see grammar explanations written down in English, you won't learn well with Rosetta Stone.
Pros
Intuitive technique works well for some people
High quality, well known course
Subscription package includes lessons with native speaker
Cons
Very expensive
No Japanese culture lessons
Level
Beginner to intermediate.
Price
There are various packages available, starting at around $100.
More
What's the best way to learn Japanese online in your opinion? Any more recommendations for us? Let us know in the comments!
---
Rebecca is the founder of Team Japanese. She spent two years teaching English in Ehime, Japan. Now back in the UK, she spends her time blogging, self-studying Japanese and wrangling a very genki toddler.